Australians love to invest in property. According to Tax Office statistics1 , around 1.9 million of us declare rental income on our tax returns and there are some good reasons why.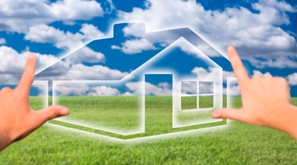 For starters, an investment property can provide you with capital growth if the value of the property increases, plus an income stream through rent.
What's more, you can offset the interest you pay on the loan and the majority of the property expenses against the rent, which for some can also make it a tax-effective investment.
Property prices set to cool
If you've been looking to jump on the property bandwagon, rapid growth in property values over the past few years may have seen you priced out of the market, particularly in the bigger capital cities.
But, according to property analytics provider, CoreLogic RP Data, housing prices look set to cool in 20152. This means that property values are likely to grow, but at a slower rate — providing potential buying opportunities for new investors.
Investing through an SMSF
If you're keen to invest in property and you have a Self-Managed Super Fund (SMSF), you may be considering buying property through your fund. But before you do, it's important to understand the rules.
An SMSF is allowed to borrow to invest in residential or commercial property, it's also permitted to use negative gearing to claim a tax deduction for the borrowing costs. And when you sell your investment property after you retire and use the proceeds to fund a superannuation pension, you usually won't have to pay capital gains tax on the sale3
One thing to consider when purchasing a property through your SMSF is that a fund cannot rent a residential property to any of its members, or their relatives and friends — so you can't fund your holiday house through your SMSF, even if you also intend to rent it to others.
However, these rules don't apply for business properties. So if you own your own business premises, you could buy and rent your premises through your SMSF. Even better, the rental income paid to your SMSF is generally taxed at just 15%.
Get professional advice
Like any investment, buying property can be complex therefore, it's important you get expert advice to make sure it suits your investment goals and financial situation. To find out more about how property investment could work for you, speak to the specialists on |03|8651 6555.
1 http://www.abc.net.au/news/2014-09-24/janda-the-myth-of-mum-and-dad-negative-gearers/5766724
2 News.com (2015) How will the property market fare this year? 2 http://www.news.com.au/finance/real-estate/how-will-the-property-market-fare-this-year-corelogic-rp-data-gives-its-predictions/story-fncq3era-1227179612157
3 ASIC (2014) Property investment https://www.moneysmart.gov.au/investing/property
This information has been prepared by Godfrey Pembroke Limited (ABN 23 002 336 254, AFSL 230690) of 105 Miller Street, North Sydney NSW 2060. Any advice in this communication is of a general nature only and has been prepared without taking into account your objectives, financial situation or needs. Before acting on any advice in this communication we recommend that you consider whether it is appropriate for your personal circumstances. Any tax estimates are intended as a guide only and are based on our general understanding of taxation laws. They are not intended to be a substitute for specialised taxation advice or a complete assessment of your liabilities, obligations or claim entitlements that arise, or could arise, under taxation law, and we recommend you consult with a registered tax agent.