We all know that exercise is good for us – not only does it reduce the risk of physical health problems, it also releases endorphins that can relieve stress and improve our mood. But did you know that a lack of physical activity is also a leading risk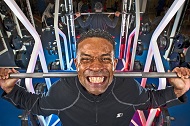 factor in cancer, diabetes and heart disease?1
That's why doctors recommend we get at least two and a half hours of moderate exercise per week2. But if you're not a gym junkie, the good news is that there are plenty of other ways to burn those calories – and have fun while you're doing it.
Dance your way to fitness
Not only does dancing improve flexibility, research shows it is as effective for weight loss as cycling or jogging.3 And in the long term, dancing can even boost your memory and lower the risk of dementia in older age4.
Best of all, dance classes allow you to make new friends and strengthen your social relationships – and with the wide range of dancing styles available, you're sure to find one you like.
So what are you waiting for? Grab a friend or partner and learn to tap, flamenco, rock-n-roll or zumba!
Scale new heights
In the mood for an adventure? If you're ready to get your adrenalin racing, then you might want to consider rock climbing. But you don't need lots of equipment and experience – the growth in popularity of this sport means there are plenty of indoor climbing centres where you can learn the ropes in a safe environment.
And climbing is great for you – as well as toning your upper and lower body, it's a great cardiovascular workout and helps develop stamina and concentration. Even your fingers get a workout.5
Grab your paddleboard
Love to spend time in the water? Paddle-boarding is a great all round workout – whether braving choppy waves or enjoying tranquil waters. In fact, some experts say that half an hour on a paddle board may be the equivalent of running almost ten kilometres.6
As you paddle, you build up muscles in your arms and shoulders, improve balance and strengthen your core. And paddle boarding is low impact, so it is far less likely to damage your joints than lifting weights at the gym.7
What could be better than a sport that lets you soak up some sunshine while working out?
Embrace your inner child
No longer considered kids' stuff, the hula hoop is making a comeback. And for an excellent reason -by working around muscles in your core, you can strengthen your abs and tone your body. In fact, one hour with the hula hoop may burn as many calories as an hour on the treadmill.8
So if you're looking for a fun, cheap and easy way to get fit, it's time to pick up your hoop and take a leap back to the 1950s.
1. Australian Medical Association, 2014
2. Australian Government, The Department of Health, 2014
3. Applied Human Science Vol. 17 (1998) No. 3 P 109-114
4. New England Journal of Medicine 2003; 348:2508-2516 June 19, 2003
5. National Health Service (UK), 2014
6. http://www.mensfitness.com/get-fit/top-5-water-activities-for-burning-calories
7. http://www.isupworld.com/health-benefits-of-stand-up-paddle-boarding/
8. http://www.livestrong.com/article/124992-health-benefits-hula-hooping/